This is a guest post by healer and author DR. JANE ELY on the publication of her book COMING INTO BALANCE by Parvati Press.
***
In my first book, Remembering the Ancestral Soul: Soul Loss and Recovery, I addressed the global epidemic of soul loss, defining it and interviewing elders who shared wisdom and insights. My new book, Coming into Balance: A Guide for Activating Your True Potential picks up the theme of soul loss bringing tangible skills for soul retrieval through recovering our true self by activating transformational change from the inside out. I wrote this book to provide a tool kit for personal transformation that is accessible for everyone. I am passionate about the subject because I practice the skills in the book everyday and I know they work.
One of the basic premises of Coming into Balance is that we are all responsible to change that which is out of alignment within us. The first act of self-responsibility arrives when we become aware of being uncomfortable or in pain, then move internally toward it exploring the deeper meaning of what is arising. External discomfort always relates to what is being activated internally and is a catalyst that opens opportunity for deep shifts and realignment within. Another principle of the book equally important is that when one person cleans up their debris it affects the whole—the entire collective consciousness of the planet moves forward with more light and clarity.  I introduce the concept of ecopsychology in the form of a universally recognized mandala known as the Medicine Wheel. The Medicine Wheel is a spiritual mandala found in many cultures most notably Native American Indian, Tibetan, Mayan, Celtic, Hindu to name only a few. The Wheel of Life reconnects us with the inherent, powerful intuitive sensate experiences of our body, mind, heart and spirit. We learn to activate the 'insightful healer within' which leads to self-discovery and a keener sense of awakened consciousness. The ancient wheel of spiritual evolution has four principles: Trust, Truth, Discernment and Faith, each direction of the Medicine Wheel reconnects us with a healing medicine. Using the Medicine Wheel as a template, we learn how to access our empowered higher self, connected to the soul agreements we made in our Life Between Lives. We get free from old "story" that keeps us stuck in the past to go beyond it into a state of awakened freedom. We find and activate the spiritual birthright or blueprint we have come here to live. We do this by practicing what I call 'skillful means' which are tools that change how we think, feel and act on a daily basis.
Ecopsychology is the practice of soul healing and of growing the soul to your next level of consciousness. Eco means the environment in which we are living, our internal and external ecology. Psycho means the soul in Greek. Ology means the study of and practice of learning. All together, ecopsychology is the daily practice of conscious soul evolution. Within the book skills, insight questions, exercises and graphics support you as you take the journey of self-awareness and transformation.
–Dr. Jane Ely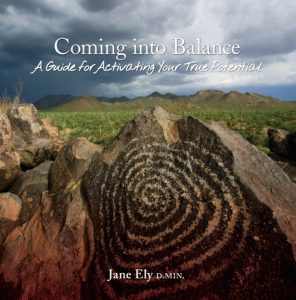 Interview of Dr. Jane Ely
[sc_embed_player_template1 fileurl="http://tracilslatton.com/janeelyinterview.mp3″]