Another great, thoughtful review of FALLEN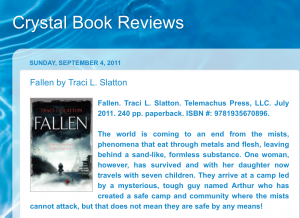 I love this book review blog. Viviane Crystal is such a thoughtful, careful reader. She writes beautifully, and she is a close, intelligent reader.
"The reader is forced to consider previously stable definitions of time, obedience, psychic powers, science, and most importantly, love. Powers exist, perhaps, that enhance long-ignored mental skills but is the power of memory too strong to allow for new ways of relating and the freedom to explore same without guilt and ignoring the instinctive inclinations of the heart?
Many, many questions arise as one reads this story that defies what can be falsely read as a simplistic story/plot. Traci L. Slatton is a writer to watch closely, including in whatever sequels follow this unique, well-written sci-fi novel! "