Glowing reviews of The Year of Loving
Two great review sites recently put up excellent reviews of my latest novel THE YEAR OF LOVING.
The first site is Mrs. Mommy Booknerd's Book Reviews. What a cool title for a book enthusiast's site, and what a terrific model for her children! She's publicly proud to be a Booknerd. Kudos to Mrs. Mommy.
This book is a realistic romance that will have you guessing and touches on many areas…love, motherhood, life, struggle, romance, friendship, betrayal and so much more.  The main character is raw and harsh, but also funny and smart.  This book is one that romance readers will certainly enjoy.

The other review was posted by reviewer HCharju on a big review site called
Night Owl Reviews
. I like
Night Owl Reviews
, a lively, appealing site with great integrity and great reviewers.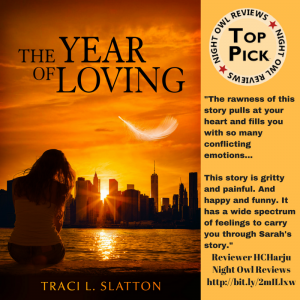 The rawness of this story pulls at your heart and fills you with so many conflicting emotions. Her first ex-husband, and the father of her children is such a hateful and petty man. The way he turns the children against her and lets them do whatever harmful thing they want makes me want to strangle him. I would think his current wife would get tired of all the court cases and BS but she seems to be of the same ilk as he is. The second husband doesn't seem too bad, just a little narcissistic and immature–Pretty much a perfect rebound guy, but not great husband material. It does sound like he has an awesome talent which leads me to believe that he will be going places.

The struggle with the daughters is heartbreaking. I'm not sure how things will end there but, I felt bad when Sarah tried so hard with no positive response.
Whenever I finish a novel, I email HCharju and ask respectfully for her to review my new book. She's a thoughtful reader and a reviewer who sees to the heart of a story. I'm lucky to have discovered her.