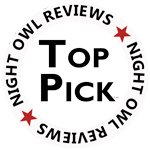 Reviewer HC Harju wrote a splendid review for Broken, and I could really tell that she had an emotional response to this novel:
Broken is a wonderfully written emotional rollercoaster. It coaxed and sometimes dragged me through a wide range of feelings within a few pages. One minute I was enjoying the passion and desire and the next I wanted to punch Knochen in the face. In between these two extremes were the times that I wanted to cry with Alia and comfort her. These characters are so real that you feel as though you are there with them. You feel you have found a friend along the way…and occasionally a new enemy as well.
See the whole review here.
Check out my author page on Night Owl Reviews here.