Representation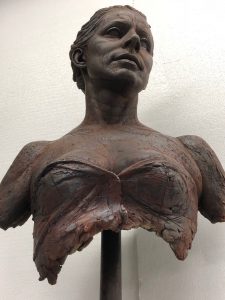 My husband Sabin Howard can sculpt. Think Carpeaux, Canova, or Augustus Saint-Gaudens. Think Michelangelo. He says, "Art represents us. How do we want to be represented?"
It's a fair question, and answering it leads me to all the reasons I'm not a post-modernist. Boiling it down, I believe in transcendence and immanence, meaning and responsibility, the integrity of the individual, and free and unfettered thinking. Ultimately, I believe in beauty, excellence, and the artist's skill.
So it is with both humility and amusement that I behold Sabin's Bust of Ceres, for which I posed. It was hours and hours of sitting on a step ladder in our bedroom at night, working to hold my head at the right angle. Sabin is a tough taskmaster. Such demands are placed on the wife of an artist!
She is beautiful. She is me, and she isn't me. She's me on Mt. Olympus, an idealized plane of existence. She's a form of representation that alludes to an aesthetic philosophy that is beyond me, in my day to day life, as I sit at my keyboard, wearing stinky yoga clothes and tapping out the latest novel.
I see the transpersonal in Ceres. She's soulful, she's elevated and elevating. I feel fondly toward my husband for naming a portrait of me after a Goddess. My ego is gratified, despite knowing that Sabin chose the Goddess out of his own artistic vision, with little to no concern for the model's vanity.
On the personal level, I see a woman of a certain age, with more lines on her face than she wishes were there.