This is a recent piece on the HuffPo, a review of the HEAL Documentary by Kelly Noonan Gores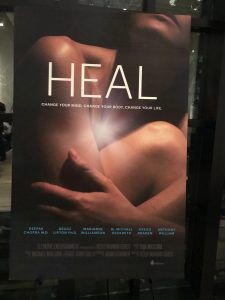 When I was 15 or 16, I developed asthma. My mother took me to a doctor who duly prescribed medication.
I took the medication for a few days. I hated it. The drug made my insides race. Perhaps I was breathing better, but it didn't matter. The trembling and hyper-adrenalized feeling, the out-of-control, careening-downhill sensations eclipsed the benefits—for me. There was a moment, and I still remember it vividly, when I decided, I will not have asthma.
This was no ordinary frisson of will. It was a moment of translucent intention. I felt no emotions, just a laser line of unadulterated purpose, and I felt it in every angstrom of my being.
The asthma left my body. I stopped taking the medication. That illness has never returned.
This was a visceral, undeniable experience of the power of the mind-body connection. It stayed with me.
Years later, in graduate school, I took up meditating. I experienced esoteric phenomena that is written about in many ancient texts but isn't part of the usual discourse of our culture. I perused every book I could find on the topic, from the Vedas and The Yoga Sutras to The Tibetan Book of Living and Dying and A Course in Miracles. Eventually I picked up books about spiritual healing.
After graduate school I started having babies. I also attended a four year hands-on-healing school and opened a practice as a spiritual or energy healer. The basic premise of this form of healing is that the human being is a psychosomatic unity—mind-body-spirit-psyche are indivisibly one—a concept well articulated in John Pierrakos' ground-breaking work Core Energetics: Developing the Capacity to Love and Heal (Pierrakos, John C. Core Energetics: Developing the Capacity to Love and Heal. Core Evolution Pub., 2005.)
Affect one part of a human being and you affect the whole; that is, affect the body and you affect the mind, spirit, and psyche; affect the spirit, and you affect the body, mind, and psyche. This is a powerful iteration of the mind-body connection that I experienced so powerfully as a teenager.
During the decade that I practiced energy healing, I saw miracles. I had especially good results with women who wanted to conceive. Fertility in women has many roots in the mind-body connection. A number of women came to my healing table and then went home and got pregnant. But not all of them.
Healing isn't curing. Not every woman who came into my healing room seeking a resolution to her infertility was able to conceive. There is a great mystery at the heart of everything, and the body isn't solely a machine in the Newtonian model where if a biochemical lever is depressed, or if a current is introduced, a result is generated.
This is a lengthy introduction to the screening I attended last night of the film Heal. A new documentary from Kelly Noonan Gores, produced by Adam Schomer, this documentary explores the new-old field of the mind-body connection and the impact of that connection on illness. It also surveys a few modalities of healing that people can utilize during their journey of healing from a serious illness.
I spoke with Adam before the screening. He's a serious, friendly, poised man with a background in meditation. Longtime meditators emit a palpable peacefulness and I felt that as I stood beside him. He said, "The intent of this film is to empower people, that's the through line."
Lovely Kelly Noonan Gores told me something similar. "There are options in the treatment of illness, I want people to know that. I want people to have the information."
The film follows a few people as they engage, poignantly and bravely, with the spiritual and psychological dimensions of healing. One is Kelly herself, the healthy seeker whose fascination with this rich topic is the engine of the story. Eva, however, experiences harsh dermatologic outbreaks. There's also Liz, struggling with cancer and chemotherapy.
Of particular interest for me was Dr. Bruce Lipton, author of The Biology of Belief (Lipton, B. H. The Biology of Belief: Unleashing the Power of Consciousness, Matter & Miracles. Carlsbad, CA: Hay House, Inc., 2016.). Dr. Lipton works with epigenetics, a science of understanding why some genes are turned on and others are turned off. This field has all the potential to empower people far beyond a simple biological destiny.
Author Anita Moorjani spoke of her miraculous remission from cancer. She was healed within hours of death.
The film is inspiring and informational. Quietly yet dramatically, it presents possibilities and alternatives. People who already know the field will enjoy the fresh presentation, and people new to these concepts will find themselves intrigued and uplifted. Heal approaches the great mystery that I encountered as a healer, and it doesn't shrink. It blossoms like a rose opening.