This is my review of ADDicted, first posted on the Huffington Post.
In the way that synchronicity happens, I received an email about the film ADDicted one week after my middle daughter and I had discussed "performance enhancing drugs."
My beautiful daughter, who is now a straight A student at college, was diagnosed with a Learning Disorder Not Otherwise Specified (LDNOS) in 8th grade. Her grades had dropped precipitously; her behavior was execrable. She was eventually diagnosed with ADHD and prescribed Ritalin.
It was a long, twisty, agonizing road before my daughter's journey led her to double-majoring at a well-regarded university. I'm fascinated with her study choices, which are highly intellectual. I'm proud of the responsible, mature young woman she's become. But we had some moments of despair and heartache along the way.
I wondered what she thought of the medications she had been prescribed as a teen. She doesn't take them now.
"So many college kids go around asking for Adderall," she said. "I'm so glad I developed strategies for studying that don't depend on performance enhancing drugs."
She commented on the prevalence of Adderall use at college. "Kids who are not ADD take them to get through exams and papers," she stated, in a matter-of-fact tone, as if everyone knew about Adderall use. She went on to tell me that part of the problem, for her, had been that she wasn't interested in the classes she was assigned in high school. "Now I love my courses. I love what I'm studying."
It made me smile. I'm not sure Latin is everyone's cup of tea. I'm pretty sure she would have thrown a Latin book at me in 9th grade if I'd tried to get her to take it then. But now she's acing it. She came to it authentically, through her own choices.
The pitch for the movie arrived in my inbox and I was intrigued because of our recent conversation.
The movie ADDicted, written and directed by Dan Jenski, dramatizes what my daughter had told me: college kids who aren't diagnosed with ADD/ADHD try to score the drug in order to cope with the overwhelming stresses of exams, papers, and extracurricular obligations.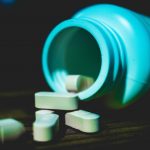 The protagonist is a young man negotiating personal and academic stressors. Drew is likable, relatable, engaging. He's barely hanging on in the face of an overly full life and the demands of classwork, football, his girlfriend, and his ambitious and widowed mother.
A tough but fair-minded professor fails Drew's paper on the basis of plagiarism, that most heinous of academic crimes. Drew pleads for a second chance and is granted one. Unfortunately, he entrusts this crucial paper to the girlfriend with whom he recently broke up. She's desperate to win him back after betraying him. She snags some Adderall from him to get her through his paper and three others, though she is not diagnosed with ADD/ADHD. Even with the enhancement, she fails to give him the paper on time. Drew is suspended and barred from playing football.
Drew faces his team and admits to his mistakes. His speech is a fine moment of taking ownership. There's not a whiff of self-pity in this character, just an acknowledgment that he'd made poor choices and now the whole team must suffer the consequences. It's a poignant moment that makes Drew even more sympathetic.
Drew's ex-girlfriend isn't the only person hitting him up for "Addies." A teammate on the path to pro football begs some off him, as well. Drew the good and empathic friend, wanting his buddy to succeed, obliges.
Drew's teammate fares well but the former girlfriend ultimately pays a steep price for using Adderall without a prescription. Note that the girlfriend did not suffer from ADD/ADHD, nor was there a doctor overseeing her use of Adderall. She prescribed herself by way of a stolen bottle.
Some viewers might take from this film a cautionary tale that warns against the use of ADD/ADHD medication altogether. However, that's not the point of this sensitive, well-constructed story.
The point is that abuse of Adderall is common. It's also dangerous. People who aren't diagnosed with ADD/ADHD and who aren't under the care of a physician should beware. These drugs are addictive, they have strong side effects, and they are very, very dangerous.
In the way it goes when you've raised a bunch of children in a city, I know kids who have been diagnosed with ADD/ADHD, who are under the care of a physician, and who greatly benefit from Adderall and Ritalin. These drugs can truly help people who struggle with ADD/ADHD. Not every person with a learning disorder can do as my daughter has done and develop non-pharmaceutical strategies for succeeding at academic work.
In the end, Drew's way out of his predicaments mirrored my daughter's way out. He had to still himself, to turn within and to listen to his heart. Once he did that, he started making good choices.
I sent a draft of this piece to Dan Jenski, asking if he had any comments. He sent back a quote and it's perspicacious enough that I'll give it pride of place, punctuating my review of ADDicted at the end.
"I was almost put on Ritalin as a kid and was able to find my true calling without taking pills. If every child received a customized education where he/she got to choose their own path, at a point earlier than college, based on their individual wants and desires, there wouldn't be an ADD/ADHD epidemic or the need for Adderall. These disorders exist because less and less people are fitting into an archaic, underfunded, one-size-fits-all education system. We need to let children lead the way with their education."