The Oceana Beach Club Hotel in Santa Monica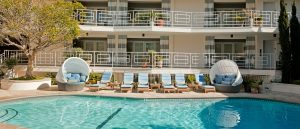 Never before have I posted a review of a hotel on my personal blog. But I had such an enchanting experience at the beautiful Oceana Beach Club Hotel in Santa Monica that I decided to write about it.
Please note: I have in no way been compensated for this review.
It's true I showed up at the Oceana feeling off, trembling with the remnants of a stomach bug that had had its slithery way with me.
It's true I had a mediocre experience with a supposedly nice hotel prior to finding the Oceana on a third-party booking site that offered an excellent deal.
Notwithstanding, the Oceana surpassed all expectations. From the moment I arrived, I was graciously welcomed by the kindly staff and soothed by the cheerful, elegant surroundings. The gentlemen in the valet parking booth treated me with good-humored kindness. Mason and Jordan and the other guys were lovely!
It was hours before official check-in time, but the lady at the front desk phoned housekeeping to see if there was a room available. She was apologetic that none was yet ready and offered to call my cell phone as soon as one became available. She offered suggestions for lunch if I wanted to walk out into sun-drenched Santa Monica.
Sometimes when I book through a third party for a discount, I get treated like an ugly stepchild. Not at the Oceana Beach Club Hotel. I was treated with courtesy and respect.
Best of all, the room was gorgeous: spacious and peaceful with lovely furnishings. I walked in and my spirits lifted. There is something about being surrounded by luxury close to the sea that soothes and elevates you!
The Oceana provides bicycles for guests to ride, and I rode extensively. I pedaled to Whole Foods and to YogaWorks nearby on Montana Ave. My second and last morning, I rode along the beach just after sunrise. 'Glorious' suggests light emerging…and it was such a ride.
I ate one meal at Tower8, the hotel restaurant: lunch. A grilled chicken panini that was sumptuous. Having eaten little in a few days, I devoured it. But even if I hadn't been off my vittles, I'd have enjoyed this well-made sandwich.
The pool was appealing though I didn't use it. The ambiance was fun and bright and posh.
The location of the Oceana, on Ocean Avenue overlooking the beach, was spectacular. It's easy to get to the boutiques on Montana and the shops on the Third Street Promenade.
I recommend the Oceana, and I give it 5*.