Big Sale on The After Series by Traci L. Slatton!
For a limited time, the an eBook containing the first 3 books of The After Series is on sale. Instead of $6.99, the eBook is $1.99.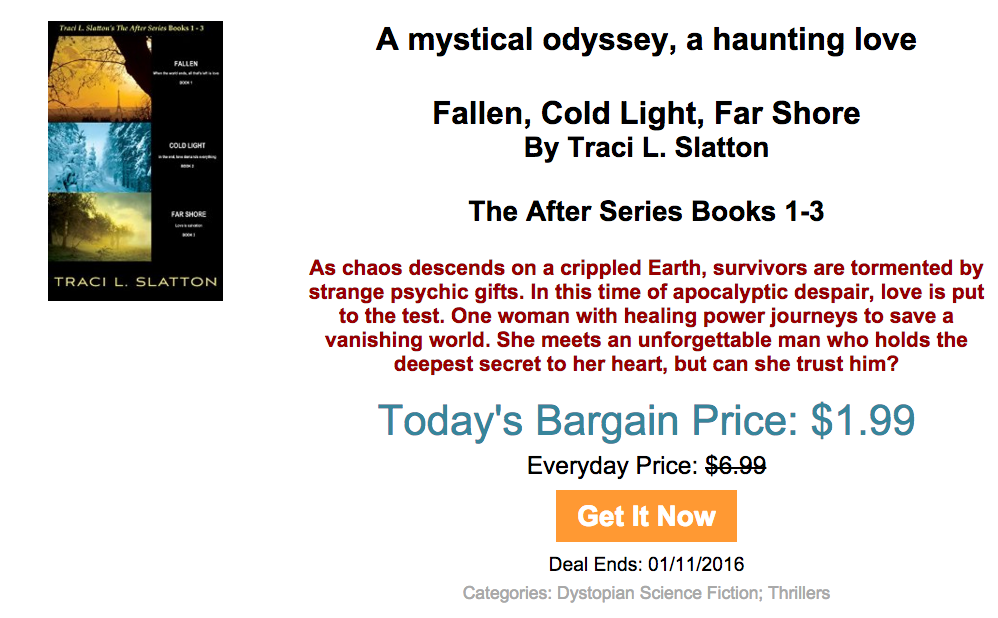 Here's the set-up:
Books 1-3 in the award-winning dystopian romance After Series: FALLEN, COLD LIGHT, FAR SHORE.
As chaos descends on a crippled Earth, survivors are tormented by strange psychic gifts. In this time of apocalyptic despair, love is put to the test. One woman with healing power journeys to save a vanishing world. She meets an unforgettable man who holds the deepest secret to her heart, but can she trust him? A mystical odyssey, a haunting love.
A fantastic 3-in-1 deal on an outstanding
award-winning series…
"An intoxicating and innovative
dystopian romance!"
The After series by international bestselling author Traci L. Slatton is a sophisticated, witty and compelling narrative about love, loss and the possibility of second chances in a post-apocalyptic world.
"…This series is not to be missed. I am completely enthralled…"
Discover this beautifully written three-book set while it's 72% off the regular price!
Check out Kindlenationdaily!