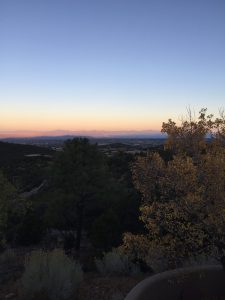 There's a friend to whom I used to send lengthy missives about my life. I fear I trespassed against my friend's great kindness with these long notes. I have promised myself to stop.
But as George Orwell said, writing is thinking, and in the process of writing, I clarified things in my mind. My thoughts opened and organized themselves. It wasn't so much self-expression as self-understanding. It was a useful process.
I caught myself contemplating how to explain to my friend about the enchantment of Santa Fe, as I drove out of Albuquerque toward this beautiful town.
As I left the airport city, the sky expanded. The blue deepened in intensity. My spirits rose of their own accord, responding to the unfettered freedom of that great expanse of the heavens.
It's not just the sky—it's the light of Santa Fe that's so compelling. I love Cape Cod, too, for the light. In Truro, there's a honeyed quality to the light, a lavender richness underlying the brilliance. In Santa Fe, the light is crystalline. The absolute clarity of luminosity is breath-taking.
Then there's the landscape: the mountains, the rich red-brown of the earth, the piñon trees and the rocks and the desert and the forests.
Last time I was in Santa Fe, we saw a bear alongside the road. It was a medium-sized animal, maybe an adolescent, a grayish streak hurtling alongside the cars. I never knew bears could move so fast. I also saw a roadrunner streaking across the road: it looked like a tiny dinosaur.
Yesterday a friend took me hiking on Mt. Ataleya. She lent me open-toed Teva sandals because I hadn't packed sneakers, and I went to lengths to avoid the cactus while scrambling up the trails.
Earlier in the day, I went to the Georgia O'Keeffe Museum, which I recommend. The gift shop is emblazoned with one of O'Keeffe's wise sayings, which put me in mind of my own Sabin, who says the same thing: "Nothing is less real than realism." It is magical here.